Twins raised in foster care walk in every state to advocate for changes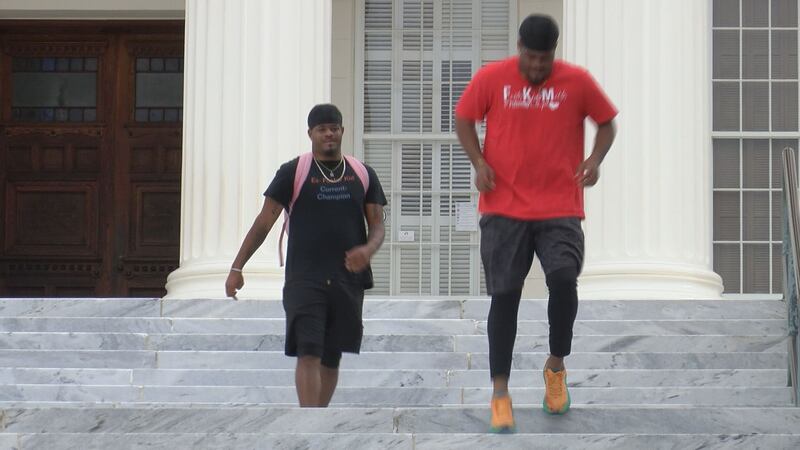 Published: Jan. 25, 2023 at 6:10 PM CST
MONTGOMERY, Ala. (WSFA) - Roughly 6,000 kids in Alabama are waiting for a forever home. Some lawmakers want to streamline the state's adoption process to make that happen quicker.
Twins Davon and Tavon Woods are walking 20 miles in every state to remind people that Foster Kids Matter. Alabama is the latest stop on their journey.
They know the foster system all too well.
"I tried to commit suicide several times because I felt like I was alone. I felt like I didn't belong," said Davon Woods.
The twins were born in South Carolina and almost immediately placed in foster care.
"Just having my brother — that's the only blood I knew for 17 years," said Davon Woods.
Michelle Bearman-Wolnek is the executive director of Heart Gallery Alabama. She says adoptive and foster families are important at any age.
"It's super important to have an adult at any stage in their life that is stable, and caring to help walk them through that process," she said.
Her agency works with kids eligible for adoption. They partner with the Alabama Department of Human Resources to do so. Streamlining the adoption process is a priority for some lawmakers.
"I think that the legislation that's out there right now that's working for kids whose parental rights have not been terminated. And often those kids or people see them as languishing in the system for too long," said Bearman-Wolnek.
"I think we'll have a bill come out to hopefully give those kids the homes that they deserve," said Speaker of the Alabama House of Representatives, Rep. Nathaniel Ledbetter.
This gives the Woods twins hope.
"It just shows that they are taking the necessary steps to at least try to make it better," said Tavon Woods.
They have over 700 miles to go, but they say every step is worth it.
"To me, if you have one child in foster care, it's too many," said Bearman-Wolnek.
Until there are no more children in the foster system, Bearman-Wolnek says they offer different programs to support the youth they work with. Their latest project is Valentine's card donations. You can learn more here.
Not reading this story on the WSFA News App? Get news alerts FASTER and FREE in the Apple App Store and the Google Play Store!
Copyright 2023 WSFA. All rights reserved.