Auburn defeats Iowa and advances to the round of 32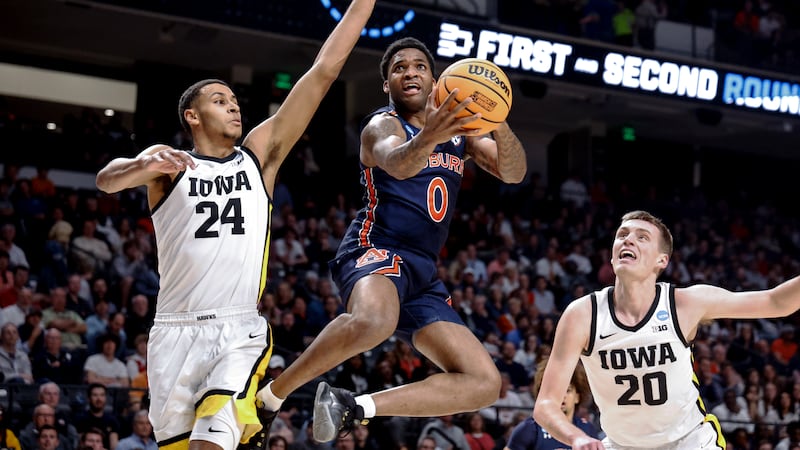 Published: Mar. 16, 2023 at 8:13 PM CDT
BIRMINGHAM, Ala. (WSFA) - The Auburn men's Basketball team took down the Iowa Hawkeyes 83-75 in the first round of the NCAA Men's Basketball tournament.
The Hawkeyes and the Tigers battled in a very close first half, with neither team holding more than a two-point lead until Auburn's Allen Flanigan gathered a defensive rebound and marched down to the court for an easy layup giving the Tigers a 10-6 lead with just over 13 minutes to go in the half.
The Hawkeyes fought right back and tied the game up a minute later. However, the Tigers began to pull away late in the half and held a nine-point lead with under ten minutes remaining in the first half.
Auburn would never relinquish the lead again in the opening half despite the Hawkeyes cutting that lead down to three points multiple times. At the half, the Tigers led the Hawkeyes by a score of 31-26.
When the teams came out for the second half, both teams struggled to find a rhythm early. Nevertheless, the Tigers were able to stretch the lead to 39-31 in the first five minutes of the second.
Things began to go downhill for Iowa between missed shots and being unable to stop the Auburn offense. The Hawkeyes were down by 11, looking to turn the momentum their way.
However, that was not the case as the Tigers, who have struggled with shooting this season, began to really stretch that lead out. With 10:50 remaining in the game, Auburn led 58-41, and things were looking promising for the Tigers.
Auburn held a 15-point lead before the Hawkeyes regained their bearings and put some points on the scoreboard with under nine minutes remaining.
Iowa took advantage of Auburn's missed shots, and with under five minutes to go, Auburn suddenly saw that lead shrink to four points.
The Hawkeyes started to get into foul trouble as the clock ticked away in the closing minutes of the game, and with 2:42 remaining, the Tigers pushed their lead back out to eight points.
The Tigers shut down any sort of comeback attempt by the Hawkeyes in the closing minutes and punched their ticket to the round of 32, where they await the winner of Houston and Northern Kentucky to see who they play next.
Not reading this story on the WSFA News App? Get news alerts FASTER and FREE in the Apple App Store and the Google Play Store!
Copyright 2023 WSFA. All rights reserved.