Growing momentum in Alabama Legislature to strengthen fentanyl laws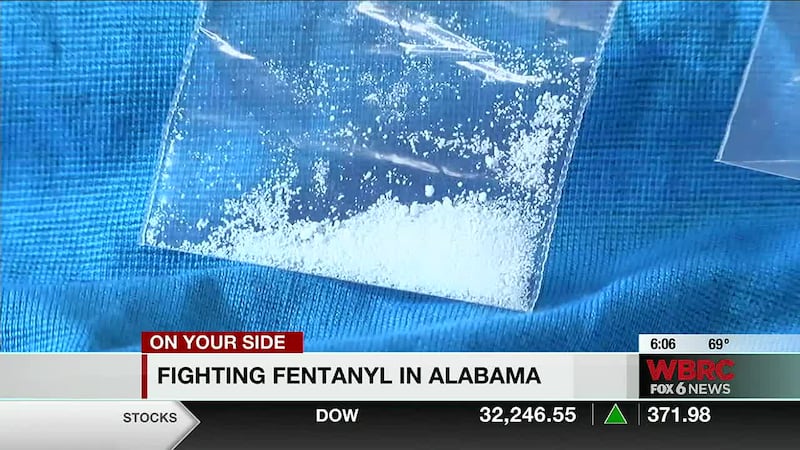 Published: Mar. 16, 2023 at 7:25 PM CDT
BIRMINGHAM, Ala. (WBRC) - Alabama's Attorney General is speaking out about a pre-filed bill in the Alabama Legislature that would dramatically change the punishment involving fentanyl.
Drug overdoses are believed to have killed almost 100 people in Jefferson County this year alone - many of those are blamed on fentanyl.
The way the bill reads now, it would call for a mandatory prison sentence for anyone convicted of trafficking the drug into our state.
This is House Bill 1, and as of now, it's sponsored by 15 Alabama representatives, according to legislative records in Montgomery. Those same lawmakers say it's a priority - especially with those 97 likely overdose deaths in Jefferson County this year, according to the Jefferson County Coroner.
Attorney General Steve Marshall says he is absolutely on board with tougher penalties.
"Pure fentanyl is one that is significant in our state when you look at the loss of life. For example, just in Jefferson County, overdoses in the last couple of months alone, I think all of that is going to be attributable to the rise of fentanyl we see on our streets, and the fact in our state we don't have a legitimate trafficking offense for fentanyl when we don't have the deterrent effect that exists for other drugs on our streets," said Attorney General Steve Marshall.
The current law requires no mandatory minimum sentence - only fines.
Get news alerts in the Apple App Store and Google Play Store or subscribe to our email newsletter here.
Copyright 2023 WBRC. All rights reserved.