Mississippi represented in the Final Four by two FAU players
Alijah Martin graduated from North Pike High School, Brandon Weatherspoon graduated from Canton High School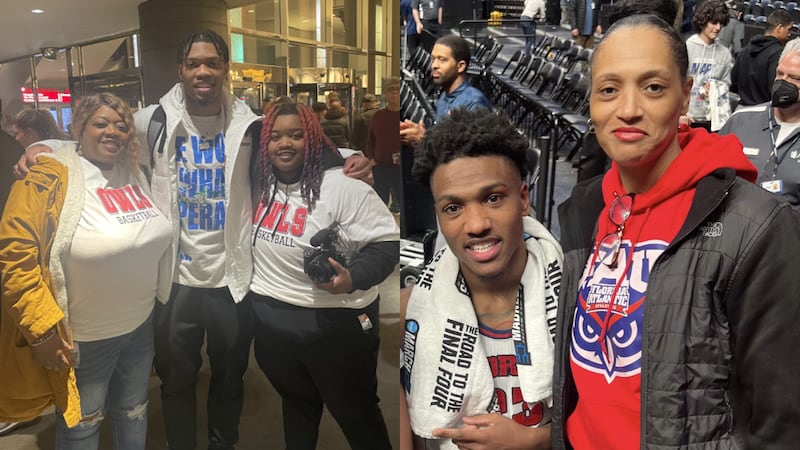 Published: Mar. 31, 2023 at 10:02 PM CDT
JACKSON, Miss. (WLBT) - Mississippi will be well-represented by one team in the NCAA Men's Final Four in Houston. Florida Atlantic University, the 9-seed Owls, has two players from the Magnolia State on its roster: Alijah Martin, a North Pike High School Graduate, and Brandon Weatherspoon, who graduated from Canton High School.
Perhaps no one in Mississippi has rooted as hard for the Owls as the players' mothers; Tina Wells-Martin, and Sharon Weatherspoon.
"I called [Brandon] after the game, we were both screaming on the phone, just really acting crazy," Sharon Weatherspoon said about the Owls' Elite 8 win over Kansas State. "They started out as the underdogs, and they're still consider the underdog. They've proved this far that they're a really, really good team. I think that we are going to see that they're going to end up in the championship game, hopefully."
"These last couple of weeks have been pretty amazing," Wells-Martin said. "I mean, it is just amazing each day. We thank God, not only for the big opportunities, but for the simple opportunities."
The two small-town communities in Mississippi, with a combined population of fewer than 13,000 people, will be represented on the national stage in Houston.
"That's a big thing," Sharon Weatherspoon said. "Being is from a small town in Mississippi, to come out, be in a final four, I think it's proven that it doesn't matter where you're from, you can do anything you set your mind to do."
She travelled to Columbus, Ohio for the first weekend of games, while Wells-Martin has been to each of the stops in the postseason; Frisco, Texas for the Conference USA tournament, Columbus for the first two rounds, and New York City for the Sweet 16 and Elite 8. She said the support from the FAU fans has been incredible to see.
"FAU, Florida supporters, and alumni, they have really showed great love," she said.
Both will be in the crowd cheering on the Owls Saturday in Houston, hoping they will be there for an extended trip.
"Me and my grandbaby have been practicing our cheer, so we're really excited about that," Sharon Weatherspoon said.
FAU plays San Diego State in the Final Four on Saturday. Tip-off is scheduled for 5:09 central time, the game will be broadcast on CBS. The National Championship game is Monday, the winner of FAU/SDSU will play the winner of UCONN vs Miami.
Want more WLBT news in your inbox? Click here to subscribe to our newsletter.
Copyright 2023 WLBT. All rights reserved.