1A/3A/5A State Track & Field Championships held Wednesday in Pearl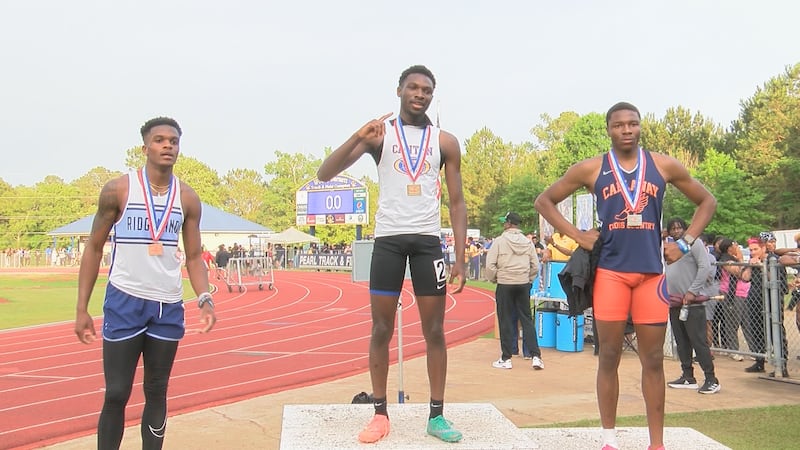 Published: May. 10, 2023 at 11:08 PM CDT
PEARL, Miss. (WLBT) - Originally scheduled for last Friday, the 1A, 3A, and 5A MHSAA State Track & Field Championships were held Wednesday in Pearl. Despite a lightning delay postponing the event for about an hour in the early evening, the weather held out for the events to be completed.
Many local athletes brought home medals, full results from the meet can be found here.
In the 3A triple jump and 300 meter hurdles, the gold medal did not go home with a high school student; Jefferson County eighth grade Charve Gibson won those events.
"It feels very good, because, just because they're older than me, people think they're better. People see me doing good, it's just unbelievable," she said.
From someone who hasn't even started her high school career, to those whose ended Wednesday, many athletes finished their careers on top, with a win in their last race, including Callaway senior Tineisha McLaurin, who won gold in the 5A 400 meter.
"I've been waiting for this," she said. "I got disqualified last state, so I just had to come show out."
McLaurin wasn't the only Charger to win gold Wednesday, Kendarius Wade won three; the 5A 100 meter, 200 meter, and 4x200 meter relay.
"Me being the competitor I am, I'm nervous coming into every race. But, I still had confidence in myself that I was going to pull through," Wade said after his 100 meter win.
"We've just been putting in work, all day, every day, and the results come out on the track. I'm just glad we can come out here and win first place," said Marvin Moore, Wade's teammate on the Charger 4x200 meter relay team.
Coming in to the state meet, Wade had the top time in the 100 meter in the state this season. Like him, Ridgeland junior Jamari Page had the top time in the state in the 110 meter hurdles. Unsurprisingly, Page won gold in 5A, beating his PR by .01 seconds.
"It was pretty much all confidence. I just had to execute, and don't false start," said Page, who false started at the state meet in 2021, but has won gold in each of the years since.
Page's teammate, Tylar Ross, won perhaps the most exciting gold of the day. In the 5A 800 meter, Ross came from behind on the final stretch to edge out Canton's Elijah Lewis by .25 seconds. Fellow Titan Ernest Stover finished with bronze, less than a second behind Ross.
"I had to push myself a lot harder," Ross said about the final stretch. "I gave it 100%, but then I had to give it 120%."
Perhaps the best story of the day was the South Delta track team. The team from Rolling Fork won several gold medals, including sophomore R'Renua Ousley's 100 meter hurdles and 300 meter hurdles, freshman Jamyai Jackson's discus, and the girls 4x400 meter relay team.
"It feels great. Last year I fell, but this time I knew I was going to get first. I had to," Ousley said after her 100 meter hurdle win.
Despite having virtually no season, the Bulldogs tied for the 1A State Championship with French Camp.
Team winners:
1A Girls: South Delta & French Camp
3A Girls: Alcorn Central
5A Girls: Brookhaven
1A Boys: Tupelo Christian
3A Boys: Tylertown
5A Boys: Ridgeland
Want more WLBT news in your inbox? Click here to subscribe to our newsletter.
See a spelling or grammar error in our story? Please click here to report it and include the headline of the story in your email.
Copyright 2023 WLBT. All rights reserved.