Co-Lin softball wins NJCAA Division II National Championship
An Abby Grace Richardson grand slam powers the Lady Wolves in the 7-0 win over Jones College Saturday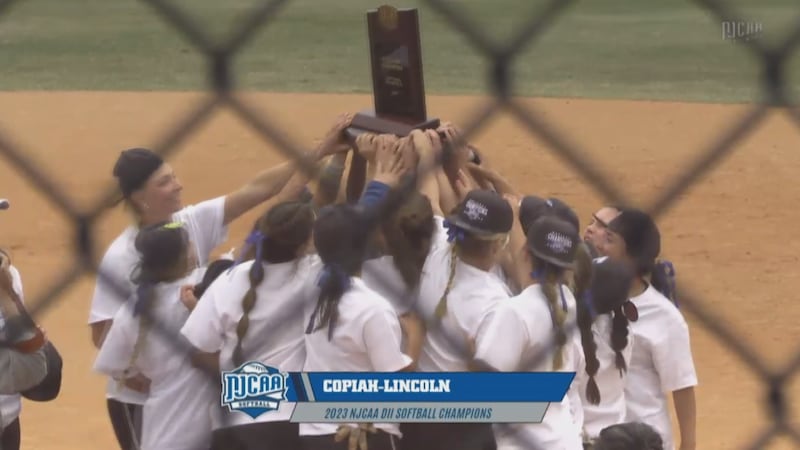 Published: May. 27, 2023 at 11:34 AM CDT
SPARTANBURG, S.C. (WLBT) - Copiah-Lincoln Community College softball was down to its final three outs Friday night against Jones College, but a Zykeria Cole sacrifice fly brought home Leia Phillips to force extra innings, and the Lady Wolves scored five runs in the eighth to force a winner-take-all championship game Saturday morning in Spartanburg, SC.
Co-Lin was first on the board in the game, thanks to a Madison Moak single that drove home Cole in the top of the third. Moak would later score on a wild pitch to make it 2-0, but the game was broken open when Abby Grace Richardson, who homered twice in Friday's game, stepped to the plate in the fifth with the bases loaded.
The Lady Wolves' home run leader did what she does best, sending a no-doubter over the fence to give Co-Lin the 6-0 lead.
Pitcher Belle West didn't need as much help as she got from her offense, as the Belhaven-commit only scattered five hits, and did not allow a run in the 7-0 win.
The win for the Lady Wolves is the first-ever championship for any Copiah-Lincoln team.
"This group is resilient. They don't give up, they play with passion, and they have fun, and it shows," said head coach Meleah Howard.
Richardson was named offensive player and overall MVP of the tournament, shortstop Faith Kivett was named defensive player of the tournament, and Cara Biswell was named pitcher of the tournament. Howard was named coach of the tournament.
"I'm just full of emotions, I'm really not sure yet, it's still sinking in," Howard said about how she feels about the win. "I've got the shirt on, and all that, then we have the hardware here in the seat strapped in. So, we're just soaking it in right now."
Want more WLBT news in your inbox? Click here to subscribe to our newsletter.
See a spelling or grammar error in our story? Please click here to report it and include the headline of the story in your email.
Copyright 2023 WLBT. All rights reserved.