After defeating Penn, Southern Miss going to Super-Regionals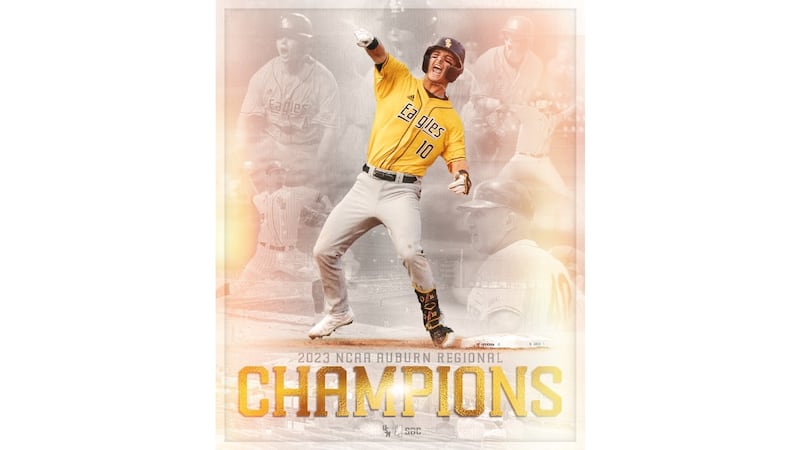 Published: Jun. 5, 2023 at 5:37 PM CDT
AUBURN, Ala. (WLBT) - A little more than 12 hours after hanging eight runs on Penn in the ninth Sunday night, the Golden Eagles and Quakers were back on Hitchcock Field for game seven of the Auburn Regional.
Just one game separated Southern Miss from a match-up with Tennessee in the Super Regional.
The Golden Eagles had their ace on the mound, Tanner Hall, just three days after a 123-pitch outing. Hall wasn't quite as dominant as Friday's nine-inning, one-run performance, as he allowed two unearned runs before getting taken out in the third.
The Golden Eagles scored a run in the bottom of the second, but the Quakers extended their lead with three runs in the fourth.
The Golden Eagle bats came alive in the bottom of the fourth, down four runs.
Tate Parker led the inning off with a single, Danny Lynch followed up with a walk, and Nick Monistere brought Parker home with a single.
Carson Paetow loaded the bases with a single and Lynch came home after Rodrigo Montenegro was hit by a pitch. Matthew Etzel followed up with a bases loaded single, bringing home Monistere, and Dustin Dickerson came to the plate with a chance to break the game open.
Following a Penn pitching change, Dickerson drove home his eighth run of the tournament with a single, but the hits stopped there.
Slade Wilks hit an infield fly to keep the runners where they were and Christopher Sargent hit into a double play to end the inning, though the Golden Eagles tied the game at five with four runs in the inning.
In the sixth, Dickerson came up once again with a chance to be the hero, and he did what he's done so many times this weekend: hit a home run. With two runners on, Dickerson launched a shot over the tall left field wall, his fourth home run in the Auburn Regional, to put the Golden Eagles back on top, 8-5.
In the end, the Golden Eagles would defeat Penn 11-7, and advance to play the Tennessee Vols, though that game's date and location has not yet been announced. This is their second year in a row heading to the Super Regionals.
Want more WLBT news in your inbox? Click here to subscribe to our newsletter.
See a spelling or grammar error in our story? Please click here to report it and include the headline of the story in your email.
Copyright 2023 WLBT. All rights reserved.