Scott Berry leaves legacy at Southern Miss that transcends baseball
Berry coached 23 seasons at USM, and coached his final one Monday in a loss to Tennessee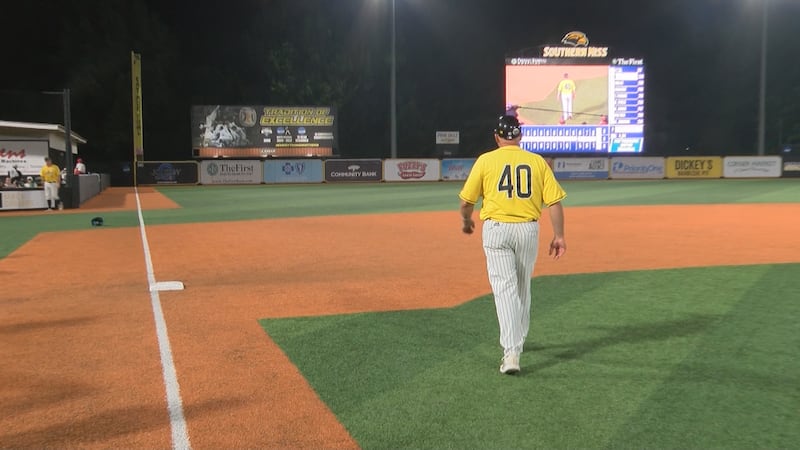 Published: Jun. 13, 2023 at 8:54 PM CDT
HATTIESBURG, Miss. (WLBT) - After 23 seasons as a coach for Southern Miss baseball, including 14 as head coach, Scott Berry coached his final game for the Golden Eagles in Monday's Super Regional loss to Tennessee.
"I want to thank our administration, our university, and everybody that's involved in our program in making it what it is, certainly these two captains [Justin Storm and Danny Lynch] that we have right here that have been with us for a number of years and have led the way for us," Berry said in his final post-game press conference.
As Tennessee celebrated the College World Series birth on Hill Denson Field, the Southern Miss fans gave Berry a standing ovation, chanting the coach's name.
"For them to tip their hat to me tonight, it meant the world to me," he said about the gesture. "Especially after a tough loss, that everybody wanted to pack up and go to Omaha just like we did, just thank you. I was very, very humbled."
"That's just one example of what Coach Berry's meant to this program," said junior pitcher Justin Storm.
"It's hard to describe, but that's just an example of how you can see how much he's meant to us and everybody in the stands tonight."
Berry had a clear impact on his players, the coaches on his staff, and the fans who packed Pete Taylor Park game after game, but he also impacted opposing coaches, and those around the country.
"That's the definition of a champion -- that guy," Tennessee head coach Tony Vitello said about Berry. "You can ask anyone that's played for him, anyone that's been around him, and anyone that's competed against him. The game has lost a good one, but he left his mark."
The mark he made goes well beyond the baseball field, and well beyond sports in general.
"I've played with probably 100 guys since I've got here, probably more than that, and you're going to see so many of them become good fathers, good husbands, good people out in the community and that's, that's the biggest thing he does here," said senior third baseman Danny Lynch. "He builds good men."
That, Berry said, is the most important part.
"Those numbers will fade, but the person you are and the teammates you are, the coach you are, how you care for people and try to build people and try to mold people that are around you, that's what they'll remember the most," he said. "That's a big part of who I am. As I've gotten older, I understand the big picture. The wins are part of it, the losses come with it, but it's these guys, when they're done, what do they do then, what kind of impact are they going to make in the community?"
Berry finished his career with a 482-256-1 record, but he will remember the wins way more than the losses.
"I will spend the rest of my time remembering and thinking about the good times, the good wins. I'm not going to be thinking about the disappointing ones, in all honesty," he said. "I've been very blessed to be surrounded by very good coaches, very good players, great administration and those are things that I'll remember as whatever I do."
Berry will be replaced by Golden Eagles' pitching coach Christian Ostrander.
Want more WLBT news in your inbox? Click here to subscribe to our newsletter.
See a spelling or grammar error in our story? Please click here to report it and include the headline of the story in your email.
Copyright 2023 WLBT. All rights reserved.