M-Braves honor Scott Berry on Southern Miss night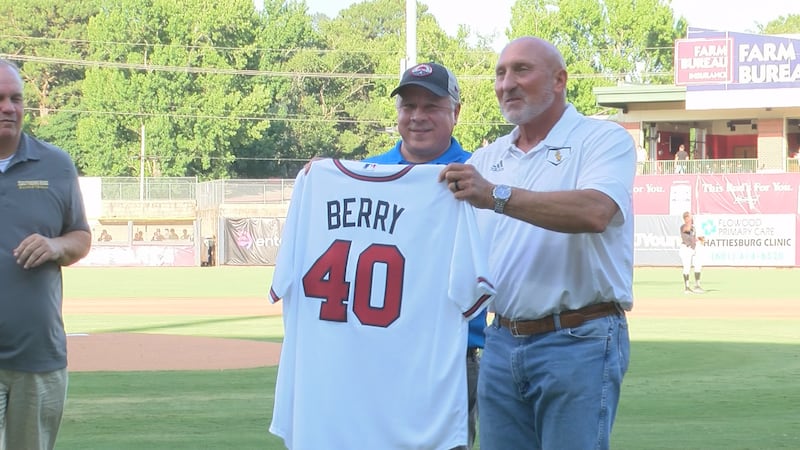 Published: Jun. 22, 2023 at 9:48 PM CDT
PEARL, Miss. (WLBT) - Thursday night, the surging Mississippi Braves hosted a Southern Miss-themed night at Trustmark Park as they hosted the Birmingham Barons.
Scott Berry, Dustin Dickerson, Nick Monistere, and men's basketball head coach Jay Ladner were recognized for their impact at USM.
Berry was presented with a personalized No. 40 M-Braves jersey and a tribute video appreciating his time at Southern Miss. Afterwards, Dickerson, Monistere, and Ladner threw out the first pitch and greeted fans.
"I'm just so honored and so blessed to have a great career," Berry said. "The most important thing is right here in the great state of Mississippi, the greatest college baseball state in the country. So, it was really an honor to go out there this evening."
"It's been cleaning out the office, that's been my man cave for the last 14 years," Berry continued. "Trying to establish one at the house has been kind of a challenge in all honesty. We about got it all cleared out, and I'm honestly ready for the next journey, whatever that is."
Nick Monistere, a freshman sensation from Brandon for the Golden Eagles in his first year as a collegiate baseball player, spoke about his first year at USM and being recognized at the M-Braves game.
"It was awesome," he said. "Growing up, I came to watch the Mississippi Braves play all the time. I got to play in the state championship here two years in a row and won it here last year. So, it's kind of cool being back out here and throwing out the first pitch."
The M-Braves went on to beat the Barons 6-1 for their second win in a row and have won six of their last seven games. They will host the Barons at 6:35 p.m. Friday night at Trustmark Park.
Want more WLBT news in your inbox? Click here to subscribe to our newsletter.
See a spelling or grammar error in our story? Please click here to report it and include the headline of the story in your email.
Copyright 2023 WLBT. All rights reserved.