Local businessman spends leisure time as racecar driver
Sid Scarbrough owns and operates several assisted-living facilities in the Metro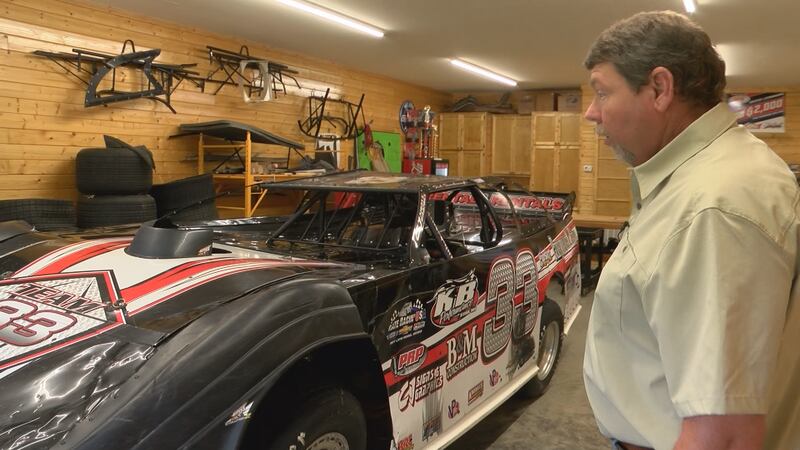 Published: Jul. 8, 2023 at 7:57 PM CDT
JACKSON, Miss. (WLBT) - In the Jackson area, there are plenty of opportunities for amateurs to participate in sports and activities. The Jackson Motor Speedway, located in Byram, brings racers from all over the state, and surrounding states, to race on its 1/3-mile dirt track.
Since the track caters to amateur racers, people with all types of backgrounds flock to race.
Sid Scarbrough races in a 604 Crate Late Model Class car. When he's not tearing up the racetrack, Scarbrough owns and operates assisted-living facilities in the Metro.
"I was building houses, and back when the housing market dropped in 2008, me and a buddy of mine decided we'd just build an assisted-living facility," Scarbrough said. "So, I built one, and since then I've built four."
Scarbrough is a former calf roper and steer wrestler, but stopped doing rodeos as he got a little older. It was always a dream of his to be a race car driver.
"When I was younger, I always told my wife that someday I wanted to race a racecar," he said. "I started, a buddy of mine [and I] were going out to eat one night, but first we stopped by the racetrack and watched the races in D'Lo. We looked at each other, and said, 'we're going to buy some race cars.' That's how we got started."
After purchasing a car, it wasn't long before Scarbrough was racing it.
"It was probably about two weeks from the time we purchased the car that we hit the track," he said. "We hit everything on the track. We didn't know what we were doing, but we were having fun."
Scarbrough's favorite part of racing is the adrenaline rush that comes with being behind the wheel.
"I guess just the excitement and the intensity of it when you're on the track and you're running side by side and trying not to hit anybody, trying not to wreck," he said.
Which may be why it's a surprise to people when he tells them what line of work he's in.
" I've been in this assisted living business for a while. People are kind of surprised when they find out that I actually drive a race car," he said. "And vice-versa, at the racetrack, they're kind of surprised that I run a business like I do."
While Scarbrough is alone in the car, he's not alone at all as he prepares for and participates in races.
"Every week we come home, I've got some guys that work for me. We put it out there, ee wash it, clean it up, clean the tires up, and then I got a full-time guy that he just takes care of it, to make sure the parts are right and the body's in good shape," he said. "But, it takes at least one guy to keep it up, to get it ready for the next week. Then, you tear it up that weekend, and do the same thing for the next week. I've got some good guys that work on it and help me keep it going, because I couldn't do it by myself and work my business like I do."
In addition to his crew, Scarbrough also has plenty of sponsors who help him afford to keep the car on the track every weekend.
"If it weren't for my sponsors, it'd be hard to do, because it takes so much money," he said. "It's hard to do it by yourself if it takes a team to do this."
Want more WLBT news in your inbox? Click here to subscribe to our newsletter.
See a spelling or grammar error in our story? Please click here to report it and include the headline of the story in your email.
Copyright 2023 WLBT. All rights reserved.