Corrections officers, inmate charged over contraband in Kemper/Neshoba Correctional Facility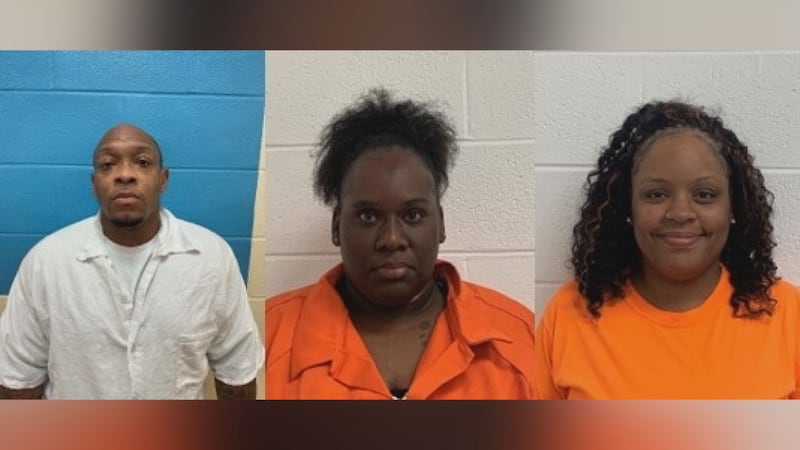 Published: Sep. 28, 2023 at 3:02 PM CDT
KEMPER COUNTY, Miss. (WTOK) - Kemper County Sheriff James Moore said two corrections officers at the Kemper/Neshoba Regional Correctional Facility have been charged with conspiring with an inmate to bring in contraband.
The alleged incident happened Sept. 13, 2023, according to a news release. Moore said there are camera images showing the employees, Adaesha Janell Donald and Shaneka Shorda Tisdale, disguising a cell phone and charging cable inside a book, which was handed to the inmate, Torrance Darnell Clayton. It's illegal for inmates to have cell phones.
Sheriff Moore said the investigation revealed both Donald and Tisdale were having recorded phone conversations with Clayton, during which bringing in tobacco, papers, a cell phone and SIM card were discussed, in addition to both employees either wanting to or having a relationship with Clayton. The sheriff said there were several calls made by the inmate to a family member where he directs her to make a payment to "TT", who was found to be Tisdale through CashApp.
All three have been charged with introduction/possession of contraband in a correctional facility and conspiracy to commit a crime.
Clayton was issued a bond in the amount of $10,000 for each charge. Tisdale and Donald were issued a bond in the amount of $25,000 for each charge.
Copyright 2023 WTOK. All rights reserved.