USM drops 4th consecutive game, falls 50-36 to Texas State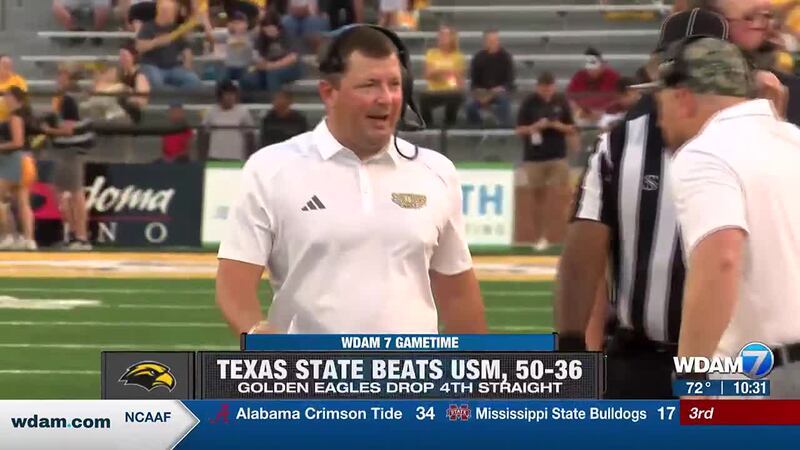 Published: Sep. 30, 2023 at 10:29 PM CDT
HATTIESBURG, Miss. (WDAM) - For the University of Southern Mississippi, it was a case of too little, too late, Saturday night at M.M. Roberts Stadium.
Despite piling up 510 total yards, the Golden Eagles dug themselves too deep a hole in a wretched first half before eventually falling 50-36 to Texas State University in Sun Belt Conference football.
USM (1-4, 0-2 Sun Belt) lost its fourth consecutive game after a season-opening win over Alcorn State University.
USM running back Frank Gore posted his second, consecutive game with more than 100 yards rushing, picking up 116 yards and scoring on a pair of 1-yard runs on 25 carries.
The performance gave Gore the 10th, 100-yard rushing game in his career.
Gore became just the sixth Golden Eagle 100 yards in at least games, joining Damion Fletcher (25 games), Ito Smith (23), Ben Garry (17), Derrick Nix (14) and Sam Dejarnette (11).
Rodrigues Clark ran for 83 yards on just carries as the USM ground game piled up 235 yards on 45 carries.
USM receiver Latreal Jones of Taylorsville finished with a career day on six catches for 124 yards. Tiaquelin Mims made four grabs 45 yards and a score, while Jakarius Caston had three catches for 61 yards and a touchdown.
Quarterback Billy Wiles completed 19-of-35 passes for 257 yards with two touchdowns and an interception. He also scored on the first touchdown run of his Golden Eagle career.
But Wiles' interception impacted the outcome.
After seeing the game's opening kickoff returned 100 yards by Texas State running back Ismail Mahdi, Wiles was picked off on USM's first play from scrimmage, setting the Bobcats up on the Golden Eagles' 21-yard line.
The first of two short-yardage touchdown passes by TSU quarterback T.J. Finley had USM down 14-0 a little more than three minutes into the game.
The deficit would grow into scores of 28-3 and, by halftime, 42-10.
USM rallied in the second, including a three-TD fourth quarter that left the Golden Eagles down 42-36 and the possession of the football with 3 minutes, 12 seconds. to play.
But after one first down, USM turned the ball over and Texas State (4-1, 1-0) clinched the victory with a final touchdown.
TSU, which won its third, consecutive game, racked up 517 total yards. Finley completed 19-of-24 passes for 339 yards and two touchdowns.
Mahdi ran for 89 yards on 14 carries and three touchdowns. He also caught a pass for 90 yards. Donerio Davenport added 73 yards on just 11 carries, as the Bobcats rushed 178 yards.
Joey Hobert caught 10 passes for 126 yards and a score to lead the TSU receiving corps.
The Golden Eagles will host Old Dominion (2-3, 1-1) at 6 p.m. Saturday at M.M. Roberts Stadium.
Want more WDAM 7 news in your inbox? Click here to subscribe to our newsletter.
Copyright 2023 WDAM. All rights reserved.