Weather Alert Day: Severe storms look to eye Mississippi and Alabama Monday night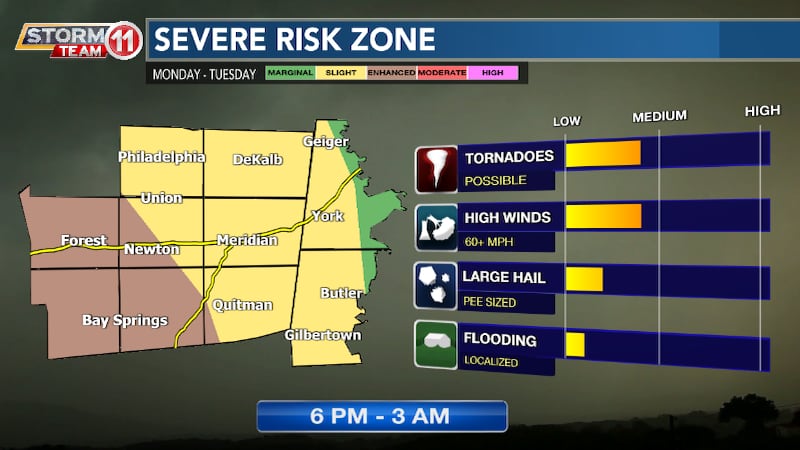 Published: Nov. 19, 2023 at 1:50 PM CST
MERIDIAN, Miss. (WTOK) -Hello everyone, we are under a Weather Alert Day as we are watching for the severe threat of storms tomorrow night that will continue into the overnight timeframe.
East Mississippi will continue to be in a Slight risk zone (Level 2/5) but the recent update has much of our area closer to central Mississippi in an Enhanced risk (Level 3/5) with our main threats being strong winds and tornadoes. This system is developing off to the west and will be associated with a cold front swinging through that will cause a lot of instability into the afternoon tomorrow. When you mix the high instability with the low-level wind profile, we could see tornadic activity with some of them being strong.
As the afternoon turns to evening there is still a chance for strong supercells to develop that could pose a strong tornado threat. Our main threat though that will impact more people will be the winds as we could see gusts up to 70 mph in some cases. Small hail is also possible with some of these storms but isn't our main threat.
Daytime heating and the amount of clearing in our cloud cover could greatly impact the forecast and if there are any showers that use up any of the instability during the day before the front approaches.
The main timing will be from 6 pm-3 am depending on where you are in the area you could see severe weather earlier than some.
THANKSGIVING:
I know we are talking a lot about the severe weather on Monday into Tuesday, but Thanksgiving looks nice and cool as that frontal boundary bringing these severe storms will also bring cooler weather. Temperatures for Thanksgiving Day will be in the upper 50s and low 60s across the area and a bit of wind so a cool Thanksgiving indeed.
Tracking the Tropics:
There is a low chance for development in the lower Caribbean Sea.
The next named storm will be named Vince.
Copyright 2023 WTOK. All rights reserved.