MPD releases dash cam video involving fired officer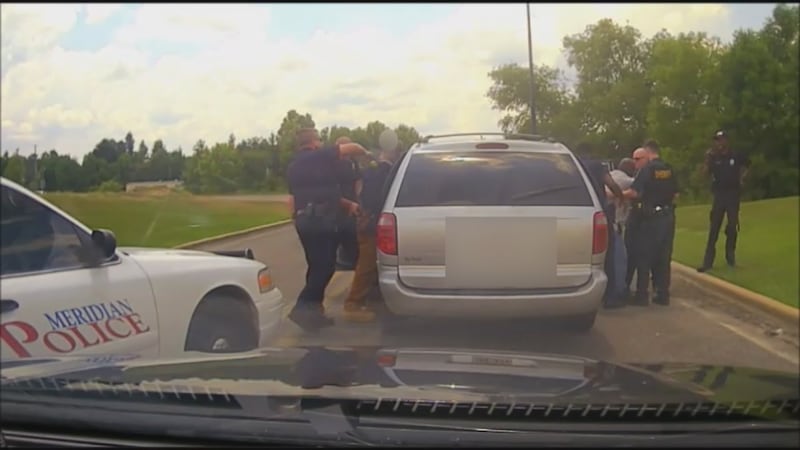 Published: Jul. 25, 2018 at 5:50 PM CDT
We have an update on the investigation of a former Meridian police officer accused of using excessive force during a recent arrest. Police Chief Benny Dubose released dash cam video to the media Wednesday afternoon of the incident involving former patrol officer Daniel Starks.
The dash cam video shows an officer responding to the Highway 19 Walmart after Officer Starks called for back-up.
The officer, who speeds across the parking lot to stop the suspected shoplifter, steps out of his patrol car and draws his weapon. Chief Benny Dubose says this officer is completely within his rights to draw his gun before he places it back in his holster. The officer then handcuffs and detains the suspect.
At this point, proper protocol was followed. Then Officer Starks approaches and rushes the handcuffed suspect and makes physical contact with him while the man is up against the van. The suspect was not resisting.
"It's not something I'm proud of that's connecting to the police department. By no means. I know it's going to be a lot of feedback and a lot of negative feedback," said Chief Dubose.
Moments later, Starks strikes the suspect with a forearm to the neck. A few words are exchanged before Starks pulls his stun gun. Starks drops the gun but picks it up and then shocks the suspect on the back left shoulder.
The other officers help pick up the suspect, who appears to be in pain, off the ground. Captain John Griffith says this type of shock is considered a drive-stun. He says this type of stun has a more centralized pain when used.
Officer Starks appears agitated and paces back and forth before placing his hands around the suspect's neck and applies pressure. This is a police tactic commonly used by officers to force someone to stand up.
After the suspect gains his balance, Starks draws his stun gun again and threatens to shock the man for a second time, aiming directly at his head. Chief Dubose says the department has 'zero tolerance' for this type of behavior.
"We attempt to be as transparent as we can. We tell the public what we will tolerate, what we will not tolerate and that's basically what it boils down to. We have nothing to hide," said Dubose.
Officer Starks was issued his final notice of termination on Monday.
"To let this particular act or anything like it just go away or get swept under the rug, that's not acceptable. To not just this department, but as far as I'm concerned all law enforcement agencies," said Chief Dubose.
Even though Starks was terminated, he has not been charged.
Click the video box to view the arrest of the accused shoplifter.